Partners & Programs

Member Login
Click here to login to OADA and access our exclusive member only content.
Telecommunications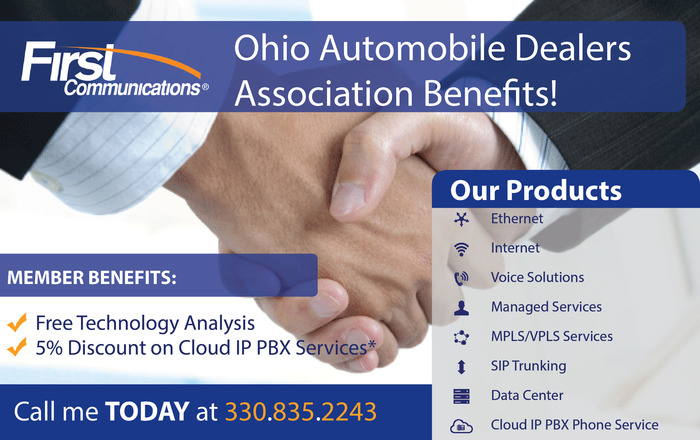 It Pays to be a Member of the Ohio Automobile Dealers Association...
As an endorsed Ohio-based telecommunications provider for over a decade to the Ohio Automobile Dealers Association, First Communications is dedicated to providing great value and committed support to its members. We offer strategic services which can help your company grow. Ohio Automobile Dealers Association members will receive our most aggressive rates and see why thousands of other businesses in the Midwest choose First Communications as their business technology solutions provider.
Our customers receive the highest level of customer service in the industry, 24x7x365 support from certified network engineers in our Network Management Center (NMC), as well as support from our 24x7x365 Care and Repair Center. We also offer data center colocation services at our state-of-the-art environmentally controlled facility that guards your business communications with both physical and virtual protection.
It pays to be a part of the Ohio Automobile Dealers Association when you receive services from First
Communications. Contact me today and see how First Communications can take your business technology further.
*New customers only
John Horton, Enterprise Sales Manager
Direct: (330) 835.2883 Email: jhorton@firstcomm.com
www.firstcomm.com ©Copyright 2018 First Communications, LLC. All rights reserved.